Some time ago we published an interview with Aleksandra "Alexi Haze" Milo, where you got to know a little bit about her. But you didn't get to know everything .. Alexi has a darker side that she didn't tell you about. She is not just a dancer and a model, she is also an experienced dominatrix.
Read on and get to know the darker side of Alexi.
How long have you been a dominatrix?
I am in my tenth year now and I have slaves from all over the Nordic countries and England. Mostly Norwegian slaves because I have been living in Oslo before
How did you pick up this interest?
As far as I can remember, I has always been in my nature to lead and be dominant, even in everyday life. It is something that has not been so much appreciated in my surroundings, especially when I was younger because I grew up in a rather conservative family and in my culture the man is the leading role while the woman is to submit. I threw myself into the world of BDSM when I was 19 years old. It happened after I had seen a movie about a dominant woman who met submissive affluent men. After I had seen the movie it felt so right to me and it didn't take very long before I began to explore my dominant side. I have always known that I am dominant but I did not know that S&M relations existed until I saw it on film. I searched online for more information and eventually I posted a personal ad. Shortly thereafter I received an answer from a middle-aged Norwegian man and we decided to meet. It turned out that we lived in the same street, just a few houses apart. My modeling started about the same time. I saw an ad searching for models for a photo / film session with jeans-fetish as a theme, and that was my first modeling job.
Can you describe yourself as a domina?
When I tell people that I am dominant, they usually think of sex, that I like to take control in the bedroom. They think of "ordinary" sex, which isn't the case for me. I do not mix "regular" sex and BDSM, for me it is more about control mentally but it can sometimes lead to physical control, depending on the circumstances. My goal is to have a psychological advantage over the slave, that is the first step. I am unpredictable and I rarely share with the slave what is going to happen during our session. Then the slave cannot stop thinking about it and that means that I have the upper hand psychologically, even before we have even met. I am also a social domina and I like to share thoughts and feelings with the slave. This makes the slave trust me and that is very important because they are letting go of themselves and lets me be in total control over them. S&M relations are at its absolute best when you have built up a relationship to each other. I like to take initiative and have very few limits when it comes to dominating others.
Personally, I like to abuse verbally, inflict pain and play with my slave's psyche.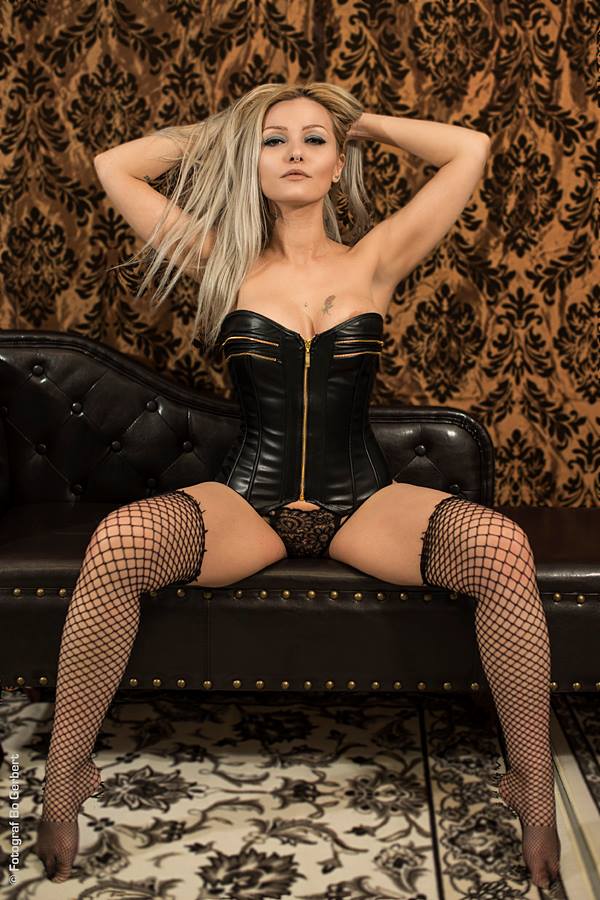 Do you have any favorite outfits as a dominatrix?
I'm probably not the stereotypical dominatrix that dresses in latex or lacquer in dark colors. I love color and want outfits in white, pink and other strong colors, preferably lacquer and fishnet. I always have long nails and a lot of makeup, it is a must, even in my everyday life. I have a shoe fetish too, so I think high heels and boots are very nice.
You focus on domination, BDSM and fetish. Can you explain a little more closely and what is your own interests about this?
This is such a wide subject and even though I put people in categories depending on their preferences or kinks, it is always individual. A fetishist is not necessarily submissive. I get contacted by fetishists who wants to see my feet, see me smoke, eat, dress up in tight clothes, show off my shoes etc. Then there are those who wants to be humiliated verbally or physically in different ways and those who wants me to give them orders and assignments. There are also those who want to test their limits, in pain for example. Many of my slaves have different combinations of these. Personally, I like to abuse verbally, inflict pain and play with my slave's psyche.
Are you only a dominatrix online or do you do sessions IRL too?
If I find an interest and see that I can get something out of our S&M relationship, I meet slaves for sessions IRL. Because I dominate very much on a mental level, I have many slaves who are content with buying movies, taking orders, be humiliated, etc. online. Some submit themselves publicly, for example, that the slave pays for my shopping and carries all my shopping bags.
How does the perfect submissive man look to you and what qualities should he have?
His appearance does not matter, because that relationship will not be built on love and intimacy. The important thing is that he is serious and does not waste my time. I am not so much for teaching, I prefer slaves with experience. He should already be an adept slave. I should only have to hone and shape him as I want him. Ideally, the slaves should be 40 years or older.
Now you know the other side of Alexi .. Mistress Alexi. She has a special blog at Miss Decadent for images and videos of this kind. Click here to get there, let yourself be humiliated and dominated. Submit to her will and obey her orders.
Here is a clip where Mistress Alexi takes her slave deep into the forest and humiliates him in many different ways. At the end she forces him to.. Well, buy it and see for yourself.