Paulina is a model that has always liked to be seen and heard. She knows what she likes and aren't afraid to tell you. Read on and find out what it is, and more.
How long have you been a model with us?
For almost a month now.
Have you experienced something particularly interesting or extra fun during your time as a blogger at Nordic Finest?
I blogged on another portal earlier but chose to switch to Nordic Finest because I thought the other site was useless. I was just exploited and used over there. I think everything is so much better at Nordic Finest and the system is very easy to understand once you get started.
When did you pick up the interest to stand in front of a camera? 
Oh, I've been in front of the camera for a couple of years now. I've always liked to be seen and heard.
Please tell us a little about your modeling. What photographic style you like and maybe you would like to tell us the most fun experience you have had as a model?
I don't like to plan so much, I just go for it and take pictures of all kinds. Spontaneity is always best, but the most important thing is that it is sexy and has an attitude.
I probably have too many sexy garments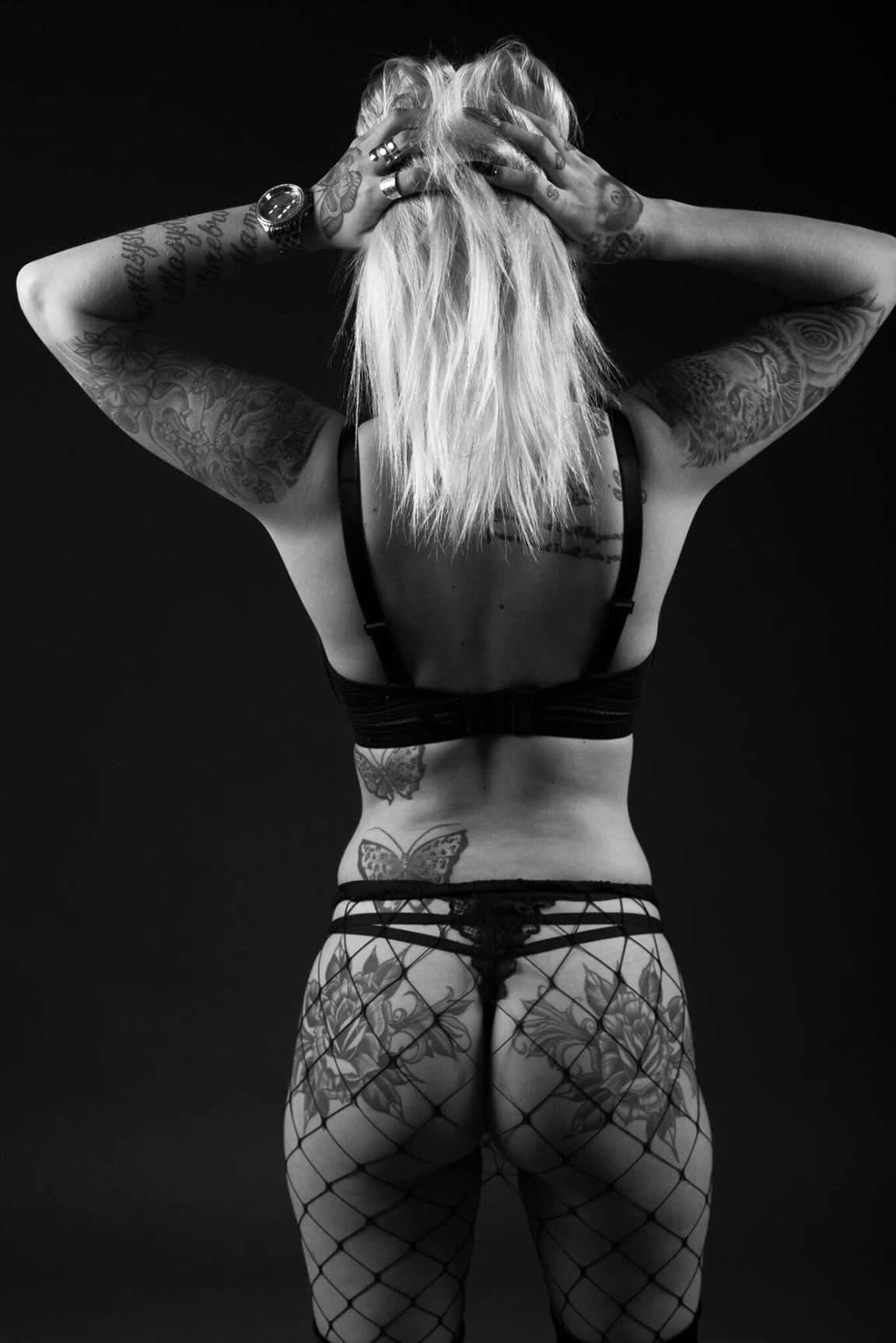 What are you most satisfied with on your body?
It's probably my breasts and my butt. Once I'm done breast feeding my baby I will have another breast augmentation. I also love my tattoos and have already booked two appointments this month.
Describe your style with three words?
My style summed up in three words is probably "Pornographic, comfortable and sexy".
What do you find sexy in a man?
What is the sexiest in a man? Oh, my thing is probably muscles and tattoos. And a big cock, haha! No, but for me it doesn't really matter that much, as long as he is a wonderful person. But of course he should be handsome as well.
What is the sexiest garment you have in your closet?
I probably have too many sexy garments so I can't pick one. I love high heels and underwear!
Having sex with more than two people at the same time really turns me on
Do you have any fetishes?
Yes, having sex with more than two people at the same time really turns me on. Having sex with girls is also really nice!
What are your plans and goals for 2019?
My plans and goals for 2019 is to do crazy videos and photos as well as geting in better shape since I hardly have any muscles left after my pregnancy. And have lots of hot sex of course!
What makes blogging so much fun for you and what can you expect when visiting your blog?
I simply love blogging and I become so happy when I see that people appreciate it! When you visit my blog you can expect everything and if you don't find what you are looking for, just contact me and I will get it done and upload it for you.
Check out this free clip from Paulinas blog! A tease in sexy lingerie. 
Thank you for your participation Paulina!
What are you waiting for, dear reader? Visit her Nordic Finest blog immediately! And remember: if you cant find it, contact her and she'll fix it.