With photographers in the family and a mother who has been model, it is probably not so strange that Sanna Velvet likes to stand in front of the camera. Already as a small girl she was offered to become a child model for a larger clothing chain, but nowadays it is glamor and fashion that apply. Sanna is an outspoken, open-minded woman with a musical vein and an obsession for a particular animal. Let us listen to her song.
Tell me a little about yourself. Who is Sanna Velvet?
Hmm, what is there to tell about me? I would say quite a lot. I can start by telling you that I am 19 years old and that I live with my partner in Halmstad. I was born here, but I moved away from home at a very early age and have managed to explore many cities around Sweden. For example, I have lived in Gothenburg, Örebro, Mora and Sollefteå. But about a year ago I decided that it was time to move back to Halmstad. I work as a model and do a lot of photo shoots, often with a very talented photographer from Falkenberg. Besides that, you can find me glued to the guitar quite often. I have been playing and singing since I was a child.
How long have you been a model and how did you become interested in that profession?
The two most important things in my life are music and standing in front of the camera. Both the interest in becoming a model and the interest in music began at a very early age. I started photographing when I was 5-6 years old by a family member who is a photographer. Both me and my family understood that I was very photogenic. I always had a positive and charming appearance on all pictures and had a very unique look. When I was 12, I received an email from a person who was a photographer for H&M. They wanted me to come to Stockholm and audition for work as a child model. Unfortunately, my mother thought I was too young so it was a no-go. She herself has been a model when she was 18-25 years old, both abroad and in Sweden, so based on her own experiences she felt that I should wait until I turned 18. It broke my heart a little, but the hope remained and I continued my career. Now I go all in for glamour and fashion shoots.
Do you have any other interests besides modeling and music?
I love makeup and clothes just like any girl does, haha. But something that is perhaps a little unexpected is that I play a lot of Xbox and the favorite game is of course Skyrim.
Today sex is so taboo, which I think is so messed up.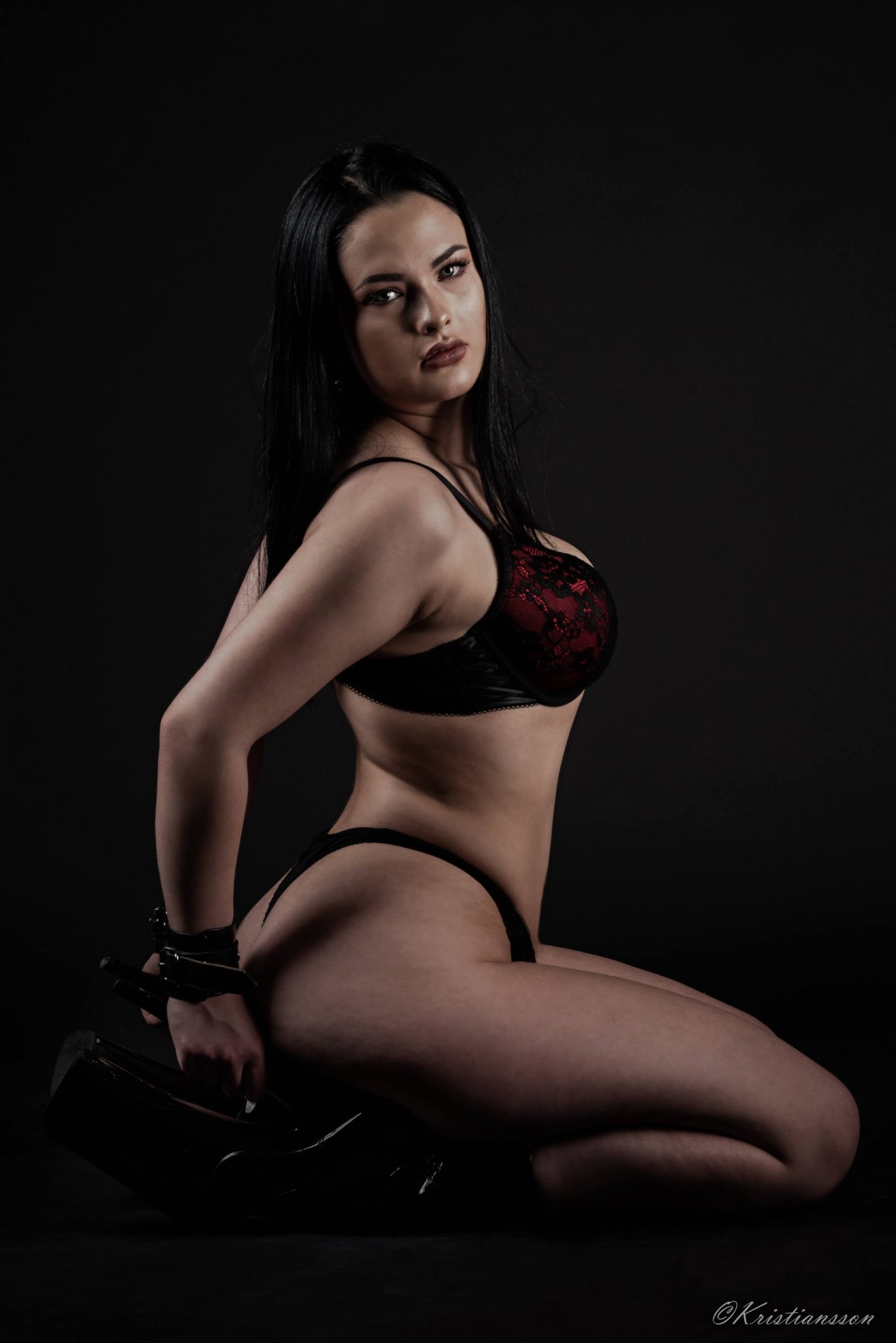 How long have you been blogging with us and how did you find us?
I started blogging on your portal in January this year because I had felt disrespected and ill-treated on another blog portal for several years. So I walked away and found you instead. It didn't take long before I decided to commit to your portal instead and you greeted me with open arms and made me feel so welcome.
Would you recommend other girls to blog on our portal?
Absolutely. If well-being, commitment and community is important, this portal is just right for you, just as it was for me.
Have you ever experienced something extra funny or maybe something really odd during a photo session?
Something odd .. hmm .. I'm pretty clumsy as a person so accidents are part of my everyday life. Most often it is easy to laugh about it, but sometimes it has been really embarrassing. About two weeks ago, a thing happened during a photo shoot with my photographer Christer in Falkenberg. I had warned him about my clumsiness, but maybe he didn't really take note of it. In any case, the outfit for the shoot was underwear, 25-30 cm high heels and with handcuffs on behind my back. The shoot itself and the pictures were great, but sometime during the session I had completely forgotten that I was handcuffed and made a desperate attempt to get up and change position. It all ended with me hitting the ground and with my kneecaps taking the impact. The pointed heels cut me straight in the back of the thighs. There I was on my stomach on the floor, bruised and with my arms in handcuffs behind my back. I was both yellow and blue the next day. But both of us got a good laugh out of it at least.
Yes that didn't sound so pleasant, we hope you have recovered since. Next question: How do you think your best friend would describe you?
Yes, its all good now, haha. My best friend is called India and also has a blog on your portal. I'm pretty sure she would describe me as charming, funny and loyal. We have known each other for a long time and are of great importance to each other. We also work together and record a lot of videos. Our threesome movie probably tops everything we have done together. I am also very good friend with Ewelina Marjatta. She has become a bit like a big sister to me. She is always there for me and is one of the kindest people I have met. She is absolutely wonderful!
I like it rough.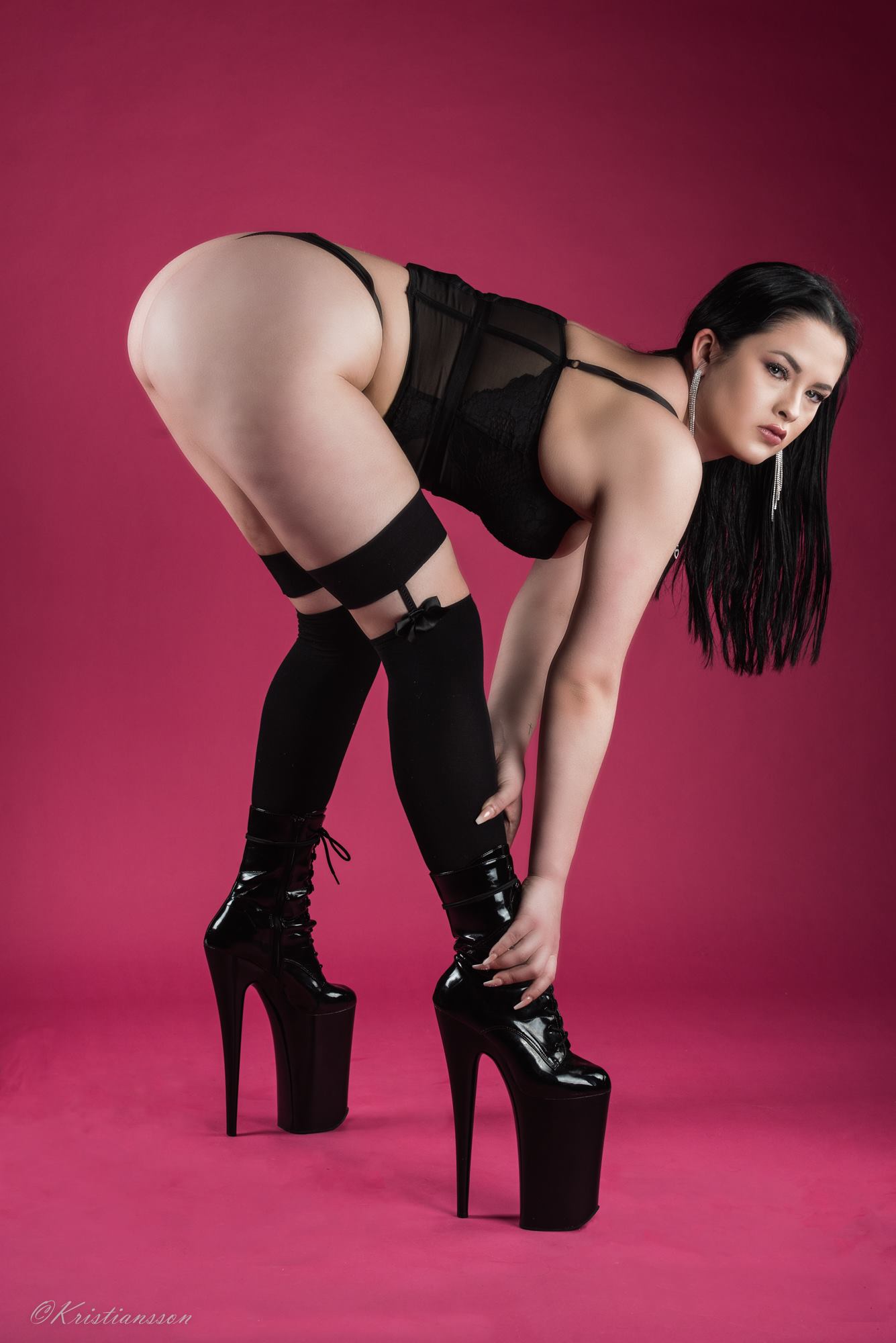 Speaking of threesomes, do you have any exciting sex experience or fantasy that you want to share with us?
Yes I have. When me and my partner tried anal sex for the first time. Before that, anal sex hadn't really been my thing. But we took it easy and did it at my pace. I was pleasantly surprised by the feeling and now we simply cannot stop. I'm crazy about sex and getting to share my experiences is even better. I don't think you should be ashamed of it. Today sex is so taboo, which I think is so messed up. We all have a sex drive so why not be open and talk about it?
My biggest sex fantasy and dream is actually a threesome with two guys. I have thought about it many times. I hope that dream will become reality some day. But so far, I am pleased to have experienced a threesome with my partner and my best friend India.
Do you have a favorite position?
Absolutely. Doggy style, every day of the week. I like it rough. It should be hard and doggy is perfect for being spanked. Many see me as sweet and innocent girl, but the looks can really deceive. I'm really the opposite. I say what I think and I am not ashamed of what I do.
Can you tell us something about you that very few or no one knows?
Hmm .. I'm obsessed with cats! Everything with cats really. Many friends even call me "Sanna the cat", haha. I have cuddly toys, clothes, trinkets and more or less everything in a cat theme. Leopard pattern clothing is my favorite. My dream is to have as many cats as possible. Maybe I will be a "crazy cat lady" after all. I actually have my own cat called Sture at home with my mother. He is the world's sweetest cat. However, he is not like other cats who usually love shrimp and cream. No, his favorite is cheese balls. But we don't often give him that now, because of his weight
What can't you live without?
My guitar! I usually say "music speaks when words can't". Music has a very healing power. I often sit with my guitar whether I have a good day or a bad day. It can produce very positive emotions in a way that few things can.
Last question: Do you want to say something to your followers and fans?
Whether you've been following me for a long time or  found me recently: Thank you very much! It is you who give me motivation and inspiration every day. Thanks for all the compliments and nice comments I get. You are golden! You can always write to me and make requests about what I should produce and upload on the blog. What you don't find on the blog I will make for you.
Thank you so much Sanna!
Now that you have read this interview your interest for this young model must have been peaked, so click here to get to her blog. If you want to make a visit to her friends you will find India here and Ewelina here.
The photographs in this interview was taken by Christer Kristiansson
Check out this free picture of Sanna with her friend India. You can also find a link in the description to the clip they made that Sanna mentions in the interview