Lene Antonsen has been featured on several TV-shows in her native country, Norway. But that is only scratching the surface so lets dig a little deeper.
How long have you been a model with us?
I started blogging for Nordic finest in November 2018. It's a serious site with freedom to sell what I want. For example, photos, videos and cam shows. I like that I can sell outside of Norway. Nordic Finest is very familiar with how the modeling profession works in all different areas, which I'm pleased with. It benefits the models.
What do you do when you are not blogging?
Outside blogging for Nordic Finest I am on my final year of studying nursing. I am an active football player and I work out at the gym as well. I spend a lot of time abroad, as I love to travel and experience the world. I am an adventurous girl and throws myself into anything that I think sounds exciting and fun.
You have a lot of followers on Instagram. Would you call yourself an influencer?
No I don't call myself an influencer. I don't like to believe that the future jobs is by making money on social media. I think earning money on social media is very nice, but it is also important to have a real job that contributes to society. Sure, being an influencer is also a job and I make money on social media too, but at the same time I feel that I do something meaningful like getting a useful education and having a regular job with a purpose. I enjoy my day job, as well as all the other quite different things that I do outside my work as a model.
However if you have the opportunity to make money on social media, I certainly think you should. I've been doing it for years and I have never regretted my choice to sell nude photos.
If you had to guess, why do you think people like to follow you?
I hope and believe that people like to follow me on social media because I am an open and a fun girl. I am up to all kinds of mischief and shenanigans that people think is fun to follow. I reach out to thousands of people daily about how my life is, both ups and downs. Even though I have done several plastic surgeries, I am a natural girl in all other aspects. I always say what I mean, no matter what it is about and speak loudly about topics that are seen as taboo.
Strange combination, but that's how I like it.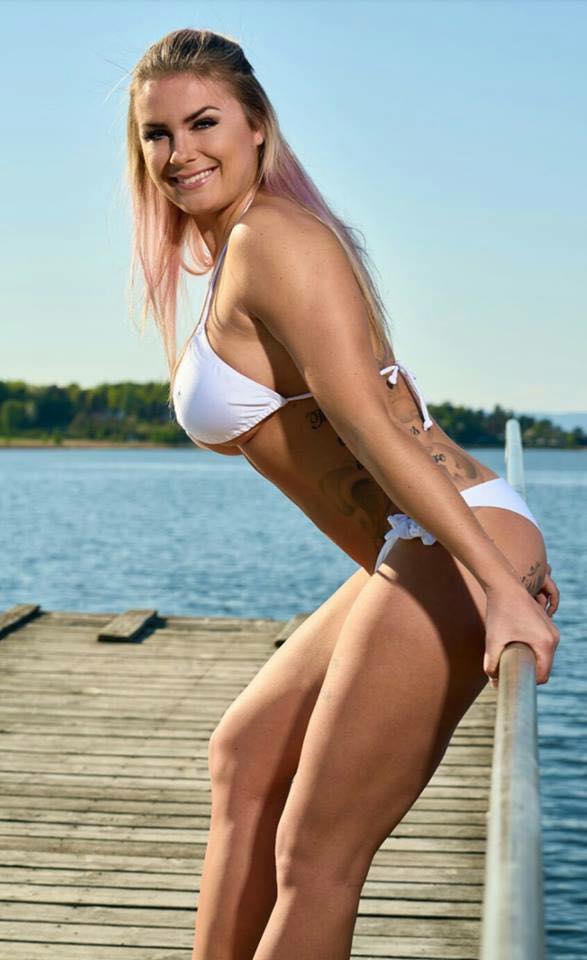 You have also participated in several TV-shows, Paradise Hotel for example. Could you name a few and tell us which one was the most fun to do?
Paradise Hotel is a story in itself. Not fair at all. The participants can not control much of the game. But it is an experience for life and I am still glad I participated. The best thing about it was that it is a beautiful place.
Other than Paradise Hotel I have been on a show called "Handel i grenseland" (Trading at the border), a humor program recorded in Sweden in 2009 to 2010. It was the first show I ever did and I consider it to be the best one of all the shows I have participated in. It was crazy fun and I am really happy that I got to be a part of it. I have also been on a reality series called "Fristet" (Tempted), It was broadcast on TV3 in 2011 and the premise was that two teams of participants were placed in a luxury environment, and received daily temptations that were to test their moral boundaries, very similar to Paradise Hotel.
What are you most satisfied with on your body?
Since I have had two breast augmentations, I would say that I am most satisfied with my breasts.
What do you find sexy in a man?
What I think is sexy is a man with a sense of humor, self-irony, a well-trained body and a pretty face. He must also be physically active and have his own interests.
Speaking of men. Do you have a man in your life?
Yes, Mads Hansen is kind of my boyfriend. He says he's not, but I don't care. I think we are a great couple, but he doesn't agree. I don't understand why. Mads used to be a football player but nowadays he is a musician. He has a wonderful singing voice. A great guy, though a little too old. But to be clear, he says he is not my boyfriend, so this "relationship" is one-sided. Although I am trying to do something about it.
Do you have any fetish?
I have no fetishes. At least not that I know of, haha.
Describe your style with three words?
Sporty, sexy and playful.
What plans and goals do you have for 2019?
I have several goals for 2019. First and foremost, I want to sell as much as possible on Nordic Finest. I have a goal of selling thousands of pictures. Apart from blogging at Nordic Finest, the goal is to get a job as an occupational therapist and to perform as good as possible on the football field. Strange combination, but that's how I like it.
Fascinating indeed. A sporty model that is a bit of a celebrity with several TV-appearances behind her and a boyfriend that doesn't agree that they do have an actual relationship. Lene, you are a very interesting person and we thank you for sharing. If you want to see Lene share some more you can visit her blog by clicking here.