Being the daughter of a controversial musical legend can probably have both its pros and cons, something that the model Linda Norstedt can confirm. There are probably very few in Sweden who hasn't heard of her father, Eddie Meduza. But this time he is not the subject of attention. Linda is so much more than a woman who happens to have a famous father, so read on and get to know the person behind the name Linda Norstedt.
Hi Linda, tell us a little bit about yourself!
Hi! I work as a glamour model, something that takes up most of my time right now. When I don't work, I spend time with my 9-year-old daughter. We love to travel and we often play video games together as well, we are real gamers and the fact that she is already fluent in English makes it even more fun.
As some of your followers might know, you are the Swedish music legend Eddie Meduza's daughter, has it affected you and/or your model career in any way?
Yes it was very hard at first. The good thing for me was that I earned more money partly because of that, since many people already knew who I was. That doesn't mean you can relax though, you have to work hard anyway! The people who was less nice to me didn't bother me too much, but the comments they dropped about me being a bad mother was tough. My boyfriend at the time, had to delete all the nasty comments before I even wanted to logon to my Facebook. It was nice to see that there also were people who really cared and protected me, especially when other girls did it. Girl power! It warmed my heart.
How would your best friend describe you?
"Sometimes your kindness almost make you seem stupid". It is actually something my best friend tells me often. Because many do not know me, they do not know that I am incredibly empathetic and very fond of my loved ones. She also says that I am always there for her and that she can count on me at all times.  I like to surprise her and give her gifts that I know she wants, whether it's a necklace – or a Playstation 4 – something I recently gave her. She began to cry because she had been saving money to get one for so long. I explained to her that I have money but that I do not have someone else like her in my life. In her eyes I have a heart of gold. It may sound like I'm some kind of angel now, ut obviously I'm not. Nobody is perfect. Sometimes I do not agree with her in her description of me as a person, but she insists that it is exactly like she says! Without discussion.
What do you get complimented for the most?
My butt and my tits. Haha! Except for that I have heard that I am good-looking and sexy – things that most girls get to hear. Occasionally someone tells me that I'm beautiful, those words make me feel a little bit embarrassed!
How did you become a model?
I started modeling  when I was 17 years old. My goal was to become a glamor model and be able to make money off  it, I felt it would be fun to combine the modeling with filming, so I googled a little bit and finally found bizify.me. I didn't think it would turn out to be such a fuss, but it was! Then it got off speed and I started modeling more and more and finally it became my job.
You get to see and hear a lot of weird things as a model!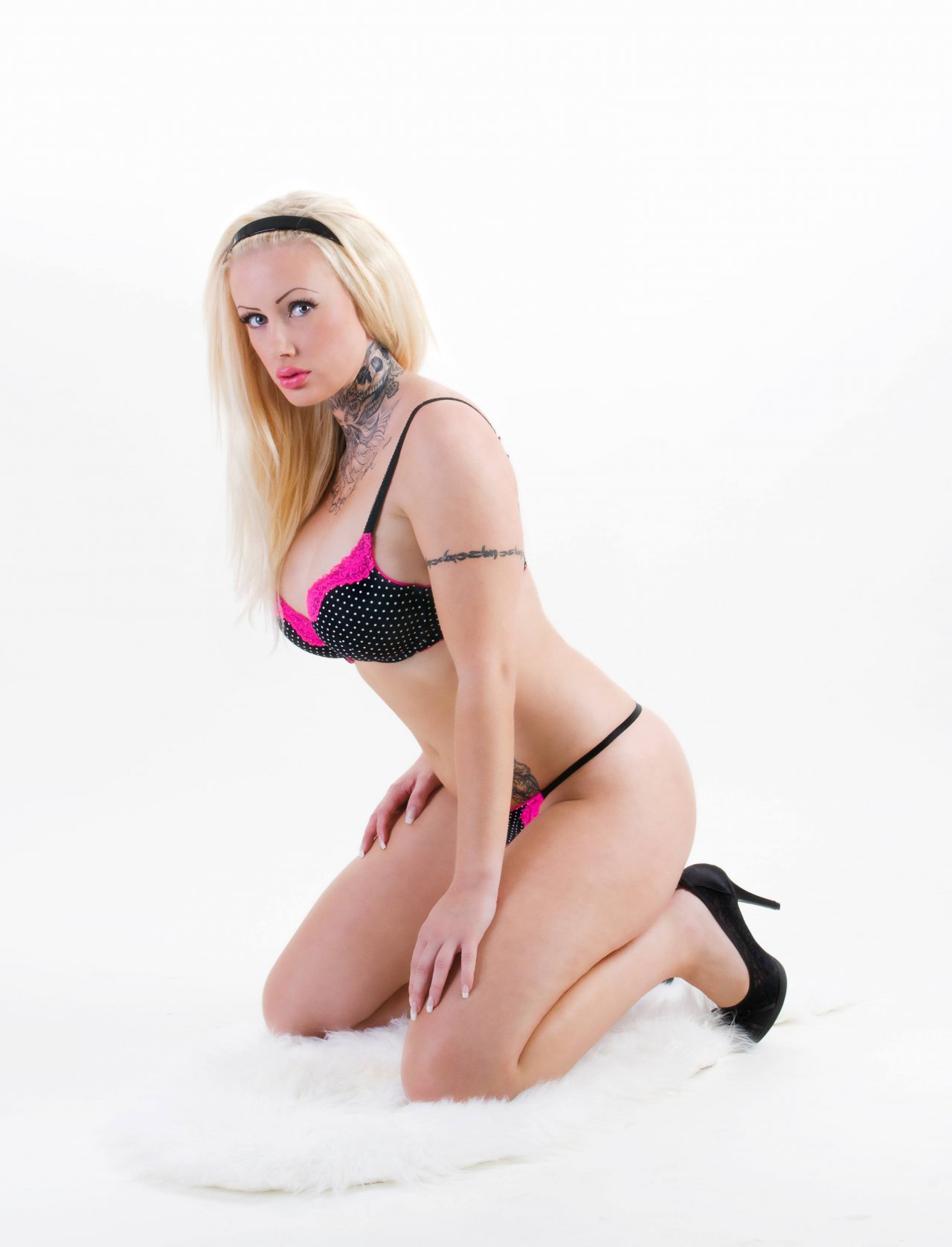 Tell me one thingt that you can't live without?
I wouldn't survive without my daughter, my computer, my phone or my wallet. I Don't know how to do without it. But my daughter is of course the one thing that I always put first, I am so glad that we both like computers so that we can play together!
What is the oddest thing that you have experienced as a model?
You get to see and hear a lot of weird things as a model! Recently, for example, there was a guy asking if I wanted to have sex with him and if I used cocaine or amphetamine? I was completely caught of guard and laughed. Who asks something like that? Haha!
Tell me one thing that nobody knows about you?
I am the world's largest romantic. I like to both receive and to give away flowers. Surprises – big and small – for instance that I come home to a nice dinner, or just that my boyfriend comes up and hug me when I'm doing the dishes. Of course I also want to make as many romantic things as possible in return for him. I dream a little about the proposal that you often see in American movies, you know, a great surprise where the guy that I love goes down on his knees and propose to me with a ring. Then there is an engagement party and a wedding. It's probably just a few people who knows that about me.
Do you have a dream job?
It may sound a little ridiculous but to work within this business, or start a big Youtube channel, you know – a business I can run from home and where I can edit the content myself. I LOVE editing movies and clips. When I am done filming a clip, I run to the computer directly to edit. It is also calming in a way since it dampens my ADHD and helps me to focus on something that I think is very fun.
How did you start blogging with us?
I googled and googled and searched and searched for pages to upload pictures and movies with sexual content. First I was thinking about  making a WordPress blog – but how could I get the movies out there and also get paid for them? I'm not very technical. When I almost had given up, I found you. The page seemed perfect! There was everything I was looking for so I read the rules carefully and sent a message to ask if it was allowed to upload nude content. Then I found out that you already had models that did just that. BINGO! After that I started my own page.
Are you single or taken?
I've been single for a year now.
How is the perfect first date according to you?
Honestly, this may sound a bit strange, because I say I'm a romantic – but a perfect first date according to me is Netflix and candy. I would love to see a film you have already seen, so that you can talk to each other about everything, and comment on the film. That's when I notice if I click with someone, because on a more intimate level you get to know more about the person's interests and humor – something that is very important to me. I also want to see if Im getting charmed by just hearing him talk. So in other words as my date you don't need to waste any money on me. I'm willing to bring the candy as well! Haha.
When you tell me I'm beautiful, my heart melts..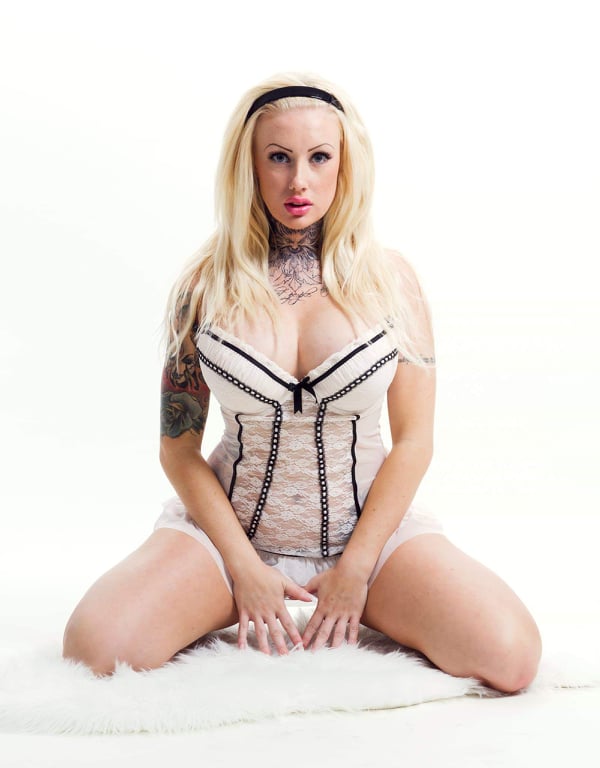 Describe your dream partner?
His looks are not that important but I am drawn to guys with tattoos, and I also prefer tall guys, over 180 cm, that makes me feel safe in his arms. Except for that, I love humor and charm. Similar interests and opinions are important, but you shouldn't be too alike. I enjoy having discussions and I feel that it's too boring in the long run if you do everything together and agree with each other about everything. I have fallen in love with guys, even though I have not liked them from the beginning I may not at all think he looked good but than charms me out of the blue and all of a sudden he becomes the world's best looking guy. With charm I do not mean what some guys seems to think – compliments of the type: "Wow. you are so sexy and good looking, you are so fucking nice, I want you, do you want to come here and hang out?" And so on. For me – charm means when a guy shows respect for me and I also loves when he has a spark in his eyes.
If you had to choose to be without one of the following things for the rest of your life – what would it be: money, sex or love?
Money. I don't like being single. The best thing is to love someone who loves you back. And then you also want to have sex, I DEFINITELY do not want to be without sex. Money, on the other hand, is something I could manage to live without, if I had to choose. In reality you need to  pay rent, electricity etc. of course, but this was a hypothetical question, right? Haha!
Have you ever been on a really bad date?
Yes, I thought I would try a "proper" date once. When I got to his house I noticed immediately that we did NOT have the same type of humor or interests. We left his home and went on to a restaurant, he didn't talk much during dinner. After dinner we went to see a movie that was fun, I mean really fun – I laughed every two minutes, but he just smiled softly at the jokes. Then I thought to myself that "wow this date totally sucks – ALL my friends and ex boyfriends would have laughed so much while watching this movie". Except for the film itself, I was so bored! He was just so boring. But he looked great though. After that I learned to never choose a book based on its cover!
Which picture or video are you most satisfied with on your model page?
It's a movie I did a few years ago. I thought it was great and when I look at it now afterwards I think, "Fuck I looked so much better then!" Haha.
Have you ever been intimate with a celebrity?
Nope. But I wouldn't reject "Damon" in Vampire diaries if he wanted to get intimate
Tell us about a sex related experience that you remember?
I was partying at a friend's house, when me and a guy went to the toilet when no one noticed it. We locked the door and had sex in the bath room, in the middle of it all he lifted me up on the sink and the whole sink broke and it sprinkled with water everywhere. Both of us laughed a lot because it was as if I would be the fattest person ever, even though I was not! Haha but the basin was already a bit weak from the beginning. We laughed so much, but at the same time we were both a little nervous about how we would explain this to our friend, but he understood the situation and didn't care at all, he was really cool and didn't even want money to fix the sink. Haha
The last quetion: Do you have something that you want to say to your fans?
Yes! You are so nice and supportive. Your compliments make my day, especially when you talk about my inside. That's what I care most about, when you tell me I'm beautiful, my heart melts. I think the word 'beautiful' describes someone that  is beautiful both inside and out. So thank you for complimenting me and making my day. Thank you for asking me for advice, thank you for standing up for me when someone is mean to me for no reason, and thank you for caring about me at all! I'm just an ordinary person and your support and appreciation is something I will never really understand but it warms my heart! Thank you!
Thank you for being you Linda!