By now there is probably no one who has managed to avoid hearing the name Sandra Reiche, at least not in Sweden. But what do you really know about her? What is she doing? You should rather ask yourself what she ISN'T doing? A published model, musician and training freak, yes she has many things going on.
Read on and find out more about one of our most famous models.
How long have you been a model with us?
I think I started sometime in 2014, so it has been a few years now.
When did you pick up the interest to stand in front of a camera?
It started when I was around 16 or 17. I lived in Kristinehamn at the time and one day while I was walking around downtown I met a photographer by chance and he asked me if I was interested in giving modeling a try. I was of course curious about this so we had a photo shoot and I really got stuck, right there and then. So I dedicated myself to it and started working with various photographers and magazines.
Please tell us a little about your modeling. What photographic style you like and maybe you would like to tell us the most fun experience you have had as a model?
I have always been interested in the glamour style. When I grew up, I admired all the good-looking girls who appeared in magazines such as Slitz (a Swedish glamour magazine) and Playboy. My biggest dream was to be one day be on the their covers.
The funniest thing is that I managed to fulfill my dream! I got to be on the cover and a large number of pages in Slitz, and a few years later I was chosen as a Playmate in the Estonian edition of Playboy.
After reaching my goals, I started to vary a little more and try out different styles. Above all, I focused on Fitness and Bodybuilding which became a great interest. So now I'm open to suggestions and different styles when it comes to photography.
You're a blogger at Nordic Finest. What do you do when you're not blogging?
I work, exercise a lot and produce music. Training and music have become two of my greatest interests in recent years so I spend a lot of time on both.
I had a dream to someday compete in Bikini Fitness..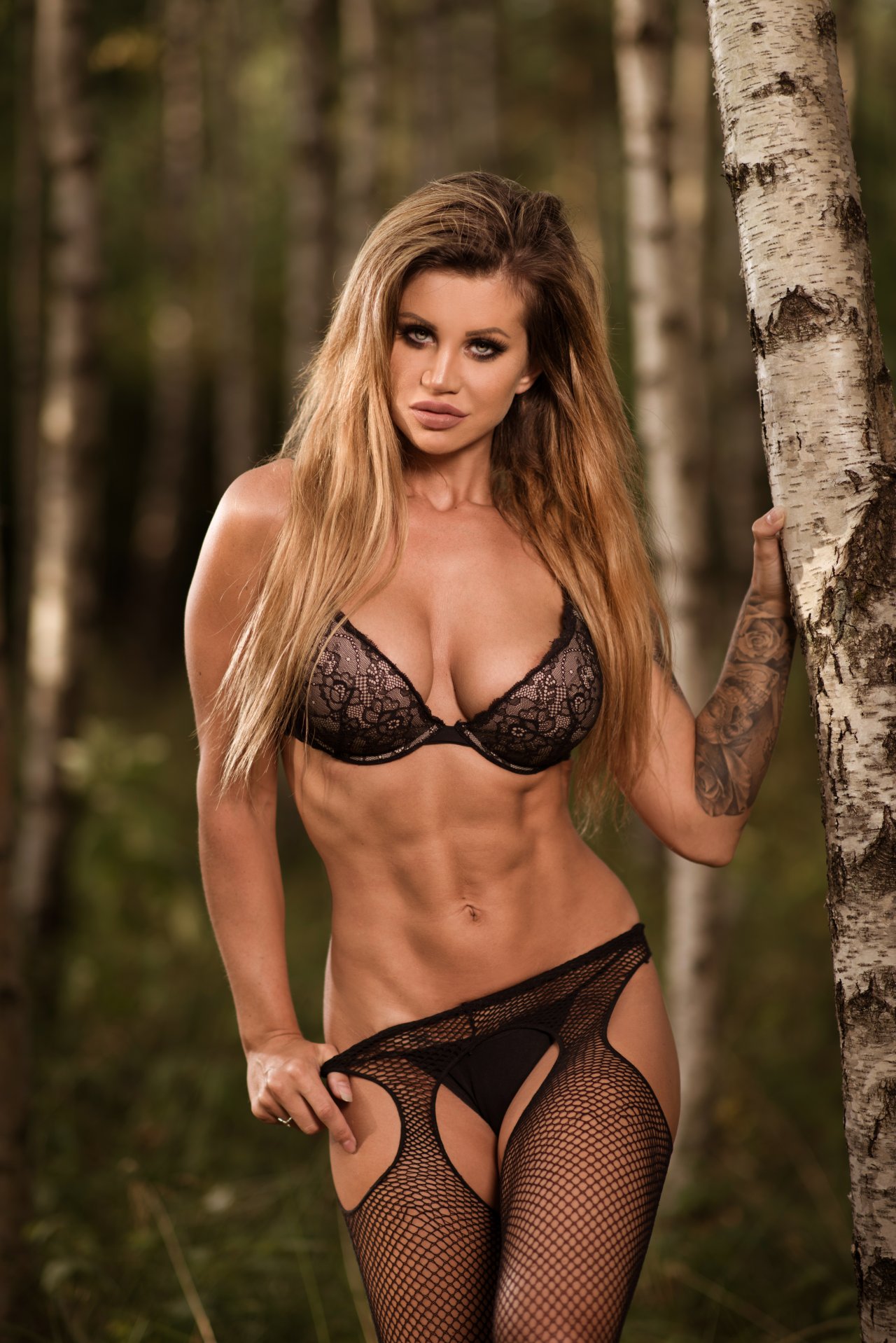 Yes you do a lot of training. How did that passion come about?
Many years ago I was in a very bad relationship. I just wanted to get away from home and try to get rid of all the bad feelings and because I lived next door to a small gym I gave training a shot and got quite stuck! I was there several hours a day and I loved it. I felt so much better and it is thanks to the exercising that I also started to deal with other problems in my life, got rid of bad people, started eating healthier and took care of my body. I also had a dream to someday compete in Bikini Fitness, which also became true, by now I have participated in several competitions.
Do you have any good advice to motivate those who also want to start exercising?
Set up clear goals and feel free to set dates when you should have accomplished them. Another tip is to look at pictures of yourself where you are not at all satisfied with your form. It can help you get started so you get away and push hard at the gym.
What part of your body are you most satisfied with?
My stomach. Initially, I didn't really like my abs, but now I love them. I also like my pouty little butt, haha.
Describe your style with three words?
Oh! That´s a hard question to answer! I would say challenging, a bit rock n´roll and a little bit like a fourteen year old, haha.
I like my pouty little butt, haha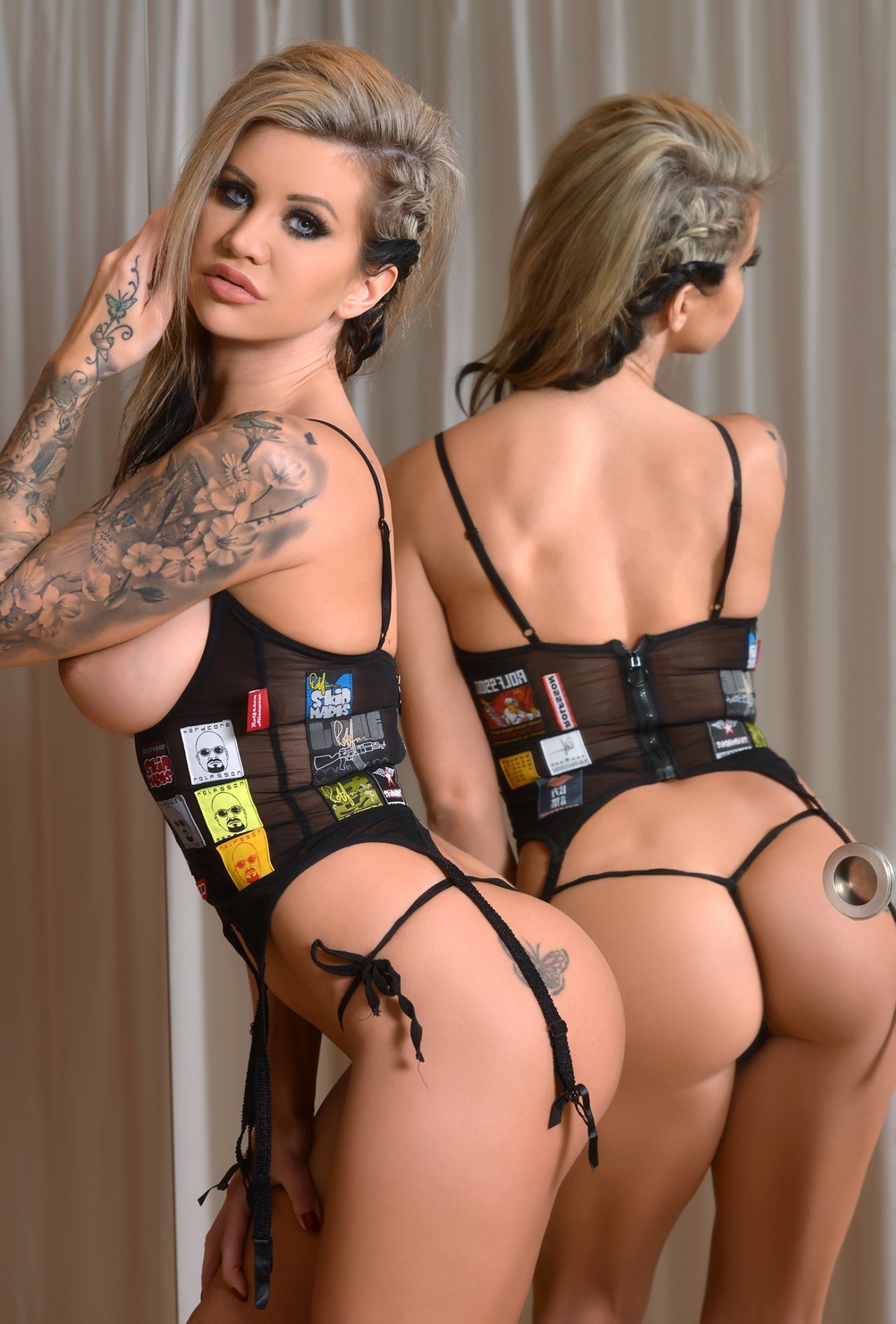 Have you experienced anything particularly interesting or extra fun during your time as a blogger at Nordic Finest?
It must be all the fans that have been around for all these years. It really warms my heart to have people who appreciate what I do and it's great fun to share my journey with them.
What do you find sexy in a man?
Determined and confident men with a lot of humor. I also have a soft spot for muscles and tattoos.
What is the sexiest outfit in your closet?
I have several boxes full of sexy lingerie so it's hard to choose a favorite, but it might be one of my fishnet bodystockings that takes the prize.
Do you have a fetish?
Not that I can think of.
What are your plans and goals for 2019?
I have several different goals for 2019. Among other things, I will focus on my music and much more that I´m keeping secret for now. But follow my blog and you will see.
Thank you so much Sandra.
We strongly recommend that you follow her.
You can find her blog here and if you want to check out her music then click here to get to her Spotify profile.