Hello Jannica!
You are one of our VIP models on Finest Models. How long have you had your model page and has something extra funny or interesting happened while blogging for us?
"I have blogged at Nordic Finest since 2013 and was one of the first to start.
Something interesting or fun? It must be all those times when guests have come to the club where I work and tells me that they follow my blog and appreciate what I do. It's just fun to hear every time.
What do you do on your spare time Do you have any special interests? Would you like to tell us?
"I spend my time with my hubby, just relaxing. I'm not a party girl, I love being at home. I do not drink alcohol either and do not like being around people that are drunk. My biggest interest is traveling which I do as often as I can … And tattoos… as you might see.
I think its safe to say that it does show, and they are very good looking. What does your tattoos mean to you? Which ones are you most satisfied with?
-Thanks! My tattoos mean a lot to me. Without them I would not have been who I am. It's a lifestyle. I would feel totally naked without them. There are so many ones that I am really pleased with, so I simply can not choose. But I've been lucky enough to get tattooed by 2 really good tattoo artist, with 2 completely different styles. Since my fiancé is a tattoo artist too, I'm of course a bit more fond of those done by him.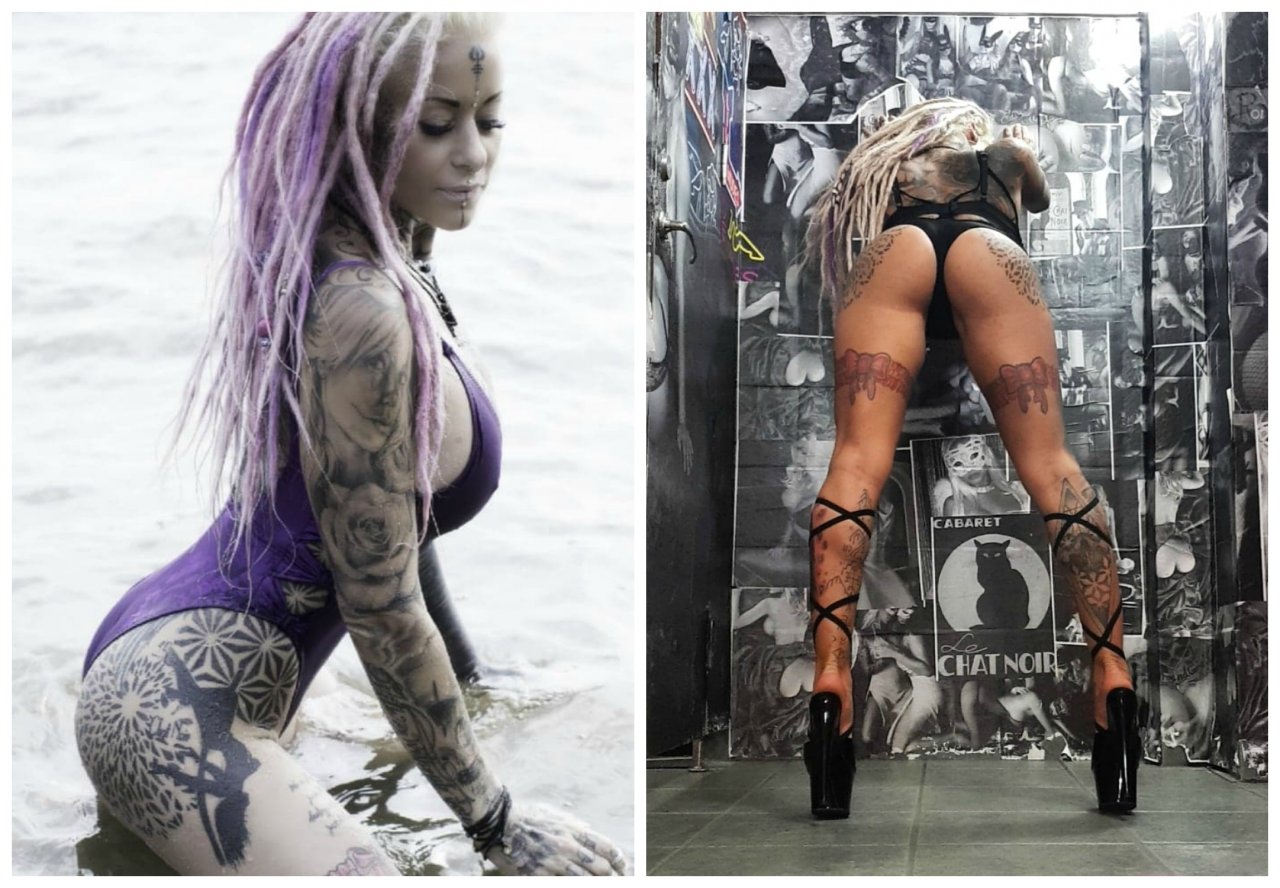 What's the sexiest garment you have in the wardrobe and what kind of clothes do you feel really sexy in?
-A black catsuit with silver details that I received from one of my best friends.
Hard question. Should I be honest, I do not feel sexy especially often, haha!
Describe your style in three words?
My style with three words… Rocky, black and comfortable.
Do you have any fetish?
– I have to answer a lot of tattoos.
What do you find sexy in a man?
-When he is really good at something that he really is passionate about.
As we touched upon earlier, you also work as a dancer. Tell me about it. When did you start working with it and what makes the job fun?
-That´s right, I work at Chat Noir, Sweden's finest strip club. I've been there for almost 6 years and I love it! I started dancing about 8 years ago when I was in Miami for six months to study. I had always wanted to try striptease and saw on Craigslist that an online company was looking for exotic dancers. I became curious so I applied and got the job. I loved it straight away and was hooked.
I continued to dance at a club in Los Angeles, but it was so much tougher there than it is at the club where I work. When I came to Sweden, I started working for Swedish Stripper Service where I traveled around the country dancing on bachelor parties, birthday parties and all kinds of different events. Then I moved to Gothenburg, did a test dance at Chat Noir and I have been there ever since.
Thank you Jannica. Don´t forget to check out her Nordic Finest-blog.